1080p wireless outdoor ip security camera with night vision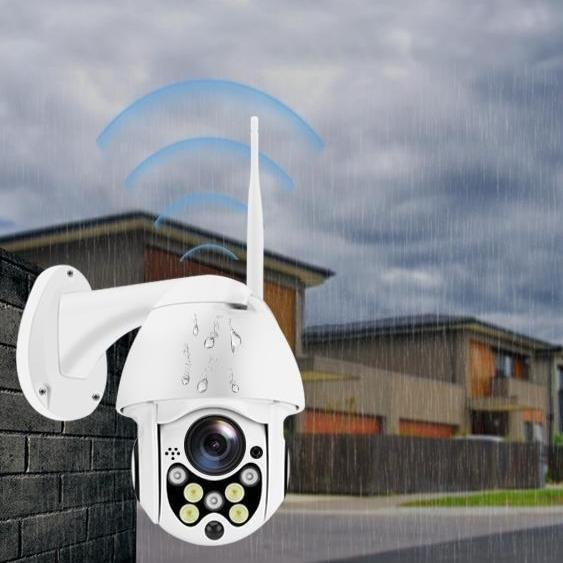 1080p wireless outdoor ip security camera with night vision
Live Smart, Keep your family safe & Secure!


The Outdoor Wifi Camera is the answer to your outdoor surveillance needs.  This smart camera helps you keep your home safe and secure.  It records clear images in 1080p resolution rain or shine, day and night, to provide safety and reliability.
With Outdoor WiFi Camera, you can monitor your home in HD video, get an instant alert once anyone steps in your property.  Hear and speak to a visitor from anywhere anytime with the built-in microphone and speaker.
Take your security system to the next level and give your self the tool to fight back against unwanted visitors! 
Here's What Our Customers Are Saying Right Now:
By Roberson Godwin on Aug 5th, 2019
⭐⭐⭐⭐⭐ Amazing security camera!
"I,m very pleased with the 1080p images this wifi camera is capturing.
I bought this waterproof security camera to put outside my front porch, where it covers the front door and the drive way.
It has proved reliable and has sent files of video and photos to my phone for storage over the last few weeks without fail.
It has plenty of good points.
Firstly, the lens is very well protected from the elements which makes the images pretty clear all the time, I have positioned it under quite a wide sofit board but it does still get a fair amount of weather thrown at it,
The best way to fit this home camera is to drill a hole 22mm diameter through the cavity wall and bring the cables indoors to a junction box near to a socket. If not done this way the cables are exposed and can easily be cut by an intruder.since installing the first I have ordered another one for the rear of the house to add to my system."
By Carmelo Passanante on July 23, 2019
⭐⭐⭐⭐⭐ Excellent wifi camera!
"This camera is a brilliant outdoor wifi camera. It can rotate 360 degrees, can be controlled by smartphone. Has audio built in and cloud storage. It records in HD compatible with android and ios."
By Fuentes Kenyon on July 18, 2019
⭐⭐⭐⭐⭐ Great video quality and many features
"Can comfortably say that this ip camera was well built and extremely easy to set up.
Mine is connected by ethernet, so I haven,t tried the WiFi setup.
Installation was straight forward.
My only dislike was the length of the power lead. Yes I know you can buy a longer extension (which I did). It would just be nice if the original was a couple of meters longer.
Extremely happy with this camera."
*To send your own feedback, please email us at [email protected]
Specifications:
High Definition: 1080P(Full-HD)
Dimensions (L x W x D)(mm):20*18*15CM
Audio Output: Two Way Audio


Package Includes:
1x Outdoor WiFI Camera
3x Screws
1x User Manual
1x Screw Tool
1x 12V2A Power Cable (we will automatically send the correct cable for your country)
(Optional) 1x 16-64GB SD Card