original flexible detangler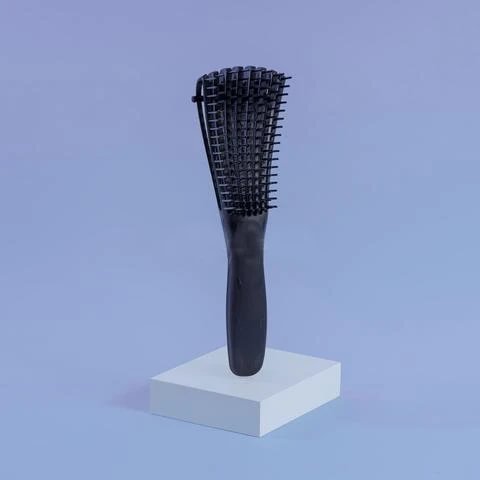 original flexible detangler
The Original Flexible Detangler works with any and all hair types! From curly to kinky curly, and straight to super thick or even synthetic hair, this brush will work easily with and adapt to any hair type.
Look absolutely flawless with your naturally curly hair. Our company made it its mission to make it easy to go all-natural.
 
 Whether you have loose type 2 waves or super curly type 4 hair, The Original Flexible Detangler glides and flexes through those annoying knots to fully detangle your hair in minutes, you,ll never dread wash day again!
 There is a reason all our Salon partners across the states recommend our rated #1 Wonderbrush to their Customers.
It Glides Through Like Butter 🧈
 The Original Flexible Detangler glides through the hair like a gentle breeze without painful tearing or any extra shedding. 
Here are just a handful of our 100,000+ Happy Customers!!
The Original Flexible Detangler is perfect for the tender-headed queens and their babies. Mammas out there love it. No tears on the Wash Days and cutting down detangling time in half are just some of the things we have heard time and time again.
✅ MOMMY APPROVED
"This brush is a miracle!
We received an amazing brush in the mail from Curltastic. Now detangling is no longer a painful chore!"
- Brittny Alicia  
The Original Flexible Detangler is extremely durable and won't snap like your wide-tooth comb!
Original Flexible Detangler Key Benefits:
Confidence is key - Achieve professional salon-quality styling every time at home with the Original Flexible Detangler, so you can step out in confidence.

Pain-Free - "I'm a dad of 2 girls so I ordered 2 brushes. My girls aren't scared of washing their hair anymore, in fact, they use the brush THEMSELVES" - Daddy approves!! 💪🏽

Lose less hair - Our separated bristles evenly distribute pressure while brushing to minimize pulling resulting in less shedding and MUCH LESS PAIN!

Save Money - Now you can confidently skip that next salon appointment and just do your wash and go routine home.


 Detangle in half the time - "I washed my hair Monday and it took me half the time from Wash, condition, hair mayonnaise, rinsing, comb through and bantu knotted. I AM TELLING YOU THAT IS A HUGE WIN in my book. Whew! Thank you for this little secret weapon for my hair.💞 "