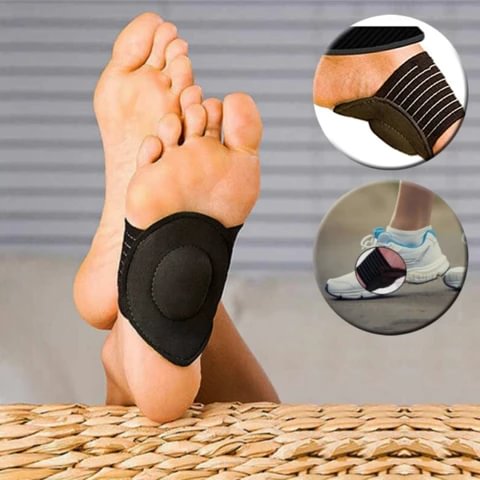 Foot Arch Support Brace
Daily walking, standing, running, jogging or other activities impose tremendous demand on our feet.
When you are on your feet, your arches absorb up to four times your body weight in impact. When you are on your feet all day because you have to be, and you do not get a break, your feet are the ones who suffer most.
These braces are the best tool you can give your feet to keep them healthy and pain-free all day long. They're essentially a miracle cure, that can provide instant pain relief.
GETTING SORE FEET FROM LONG AND CONSTANT WALKING?
Give your feet a break and let us help ease the pain with our Foot Arch Support Brace, a cushioned arch-supporter sole angel! This slip-on product provides support, and comfort for your tired achy feet.
Whether you work in a high-traffic medical ward or a busy salon where you stand in one place all day, the Foot Arch Support Brace has a brace for standing all day that matches your needs. Experience a better workday, with more energy and a happier, healthier lifestyle.
FEEL THE DIFFERENCE IMMEDIATELY
These supports provide compression and shock absorbing technology to provide relief to your tired, stressed, and strained feet, thus taking pressure off the body. They help alleviate pain in your feet, knees, hips, and lower back. You can wear them in any type of shoe, sneakers, sandals, flip-flops, or even barefoot!
If you're out on a walk or need to stand for hours at work, these supports won't interfere; they fit snugly around the feet, and the padding is underfoot so that wearing sneakers around them won't cause discomfort.