This music box is a custom-made product, and it is hand-engraved and the production process is more complicated. But we still sell at the lowest price, at the same time, if you buy two or more,we offer you a free shipping service that without paying extra courier fees and also provide you with some 3% off discount for you to use(Please enter the discount code on the checkout page).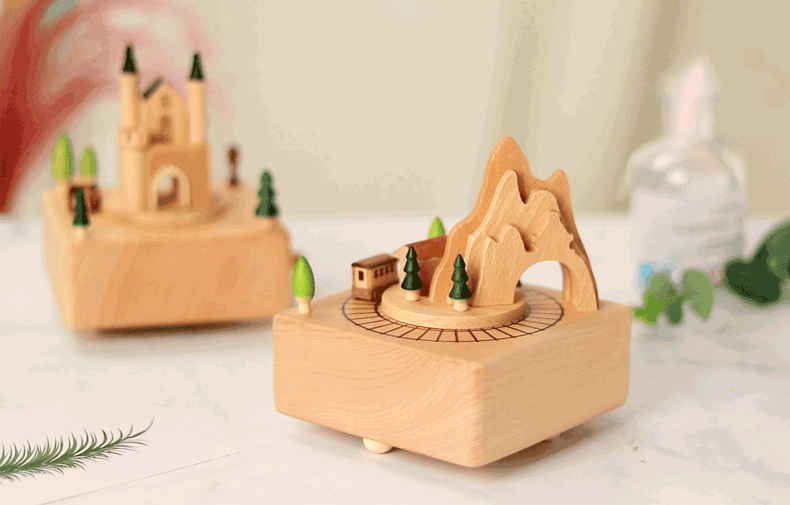 Now, you can give this rotating music box as a gift to your children at the lowest price, with custom engrave message and  your unique love.
We promise to you that your children will love it very much.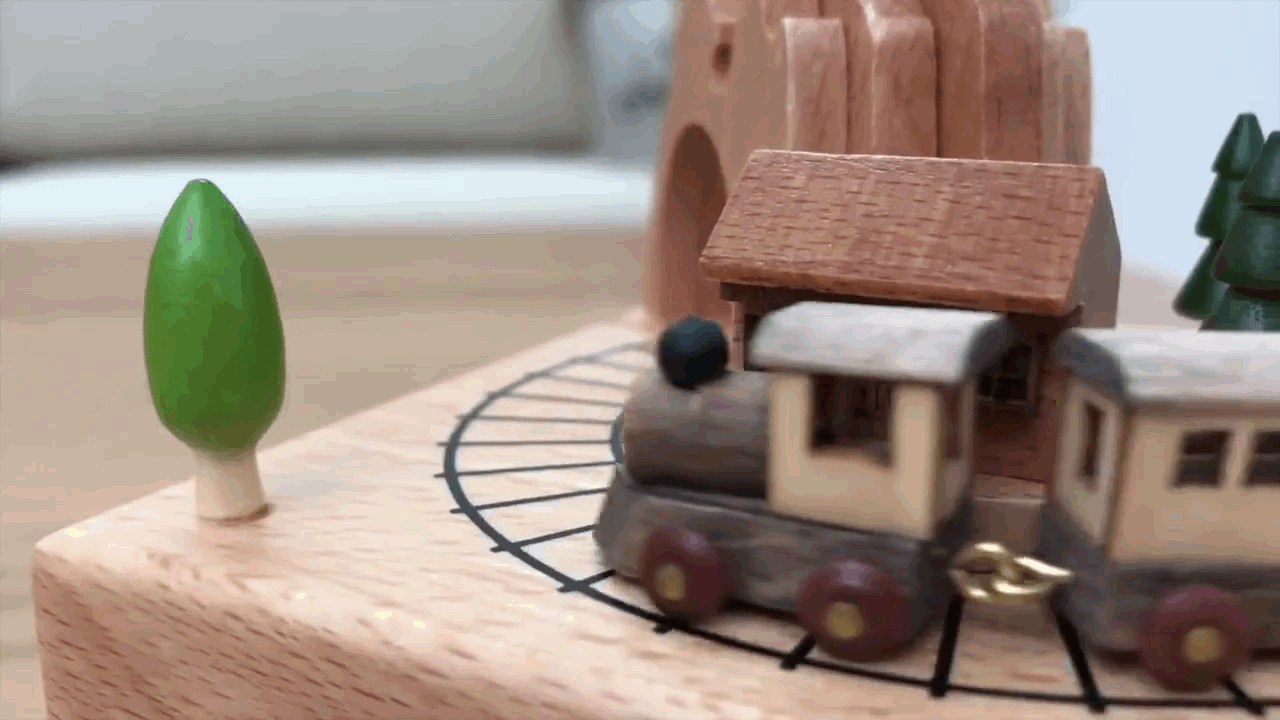 When your children get this music box from you, he will be very happy, maybe he will say "thank you". You just spend a small amount of money to bring great joy to your children. The little train that the follower rotates, accompanied by wonderful music, your children maybe start dancing and was very excited. And besides the music box supports free engraving, you can carve any sentence you want to express. Let your child feel your deepest love.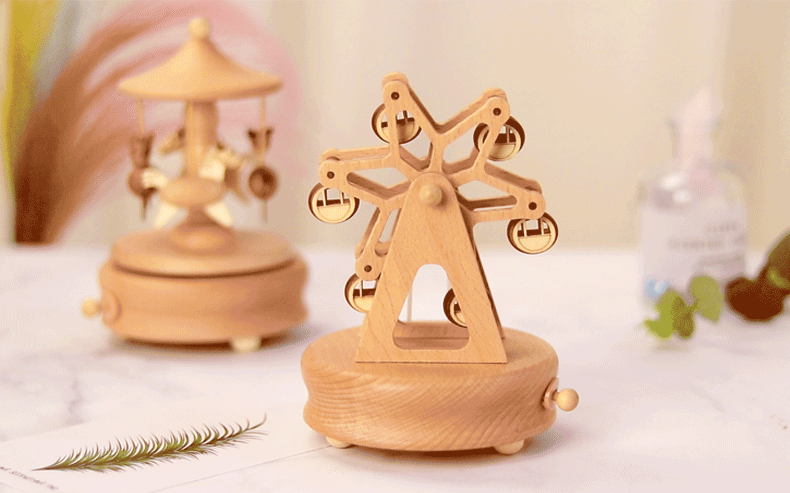 When a train is moving, it is held firmly by an internal magnet and does not fall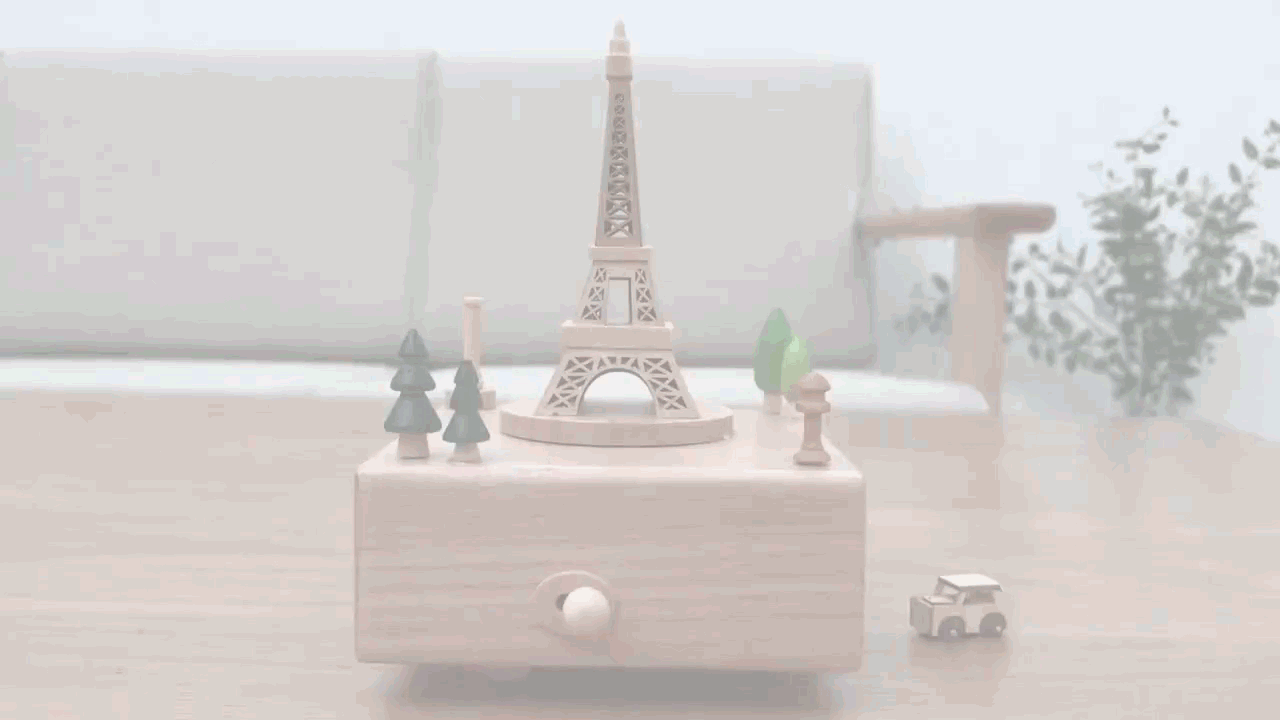 Make an ideal gift for some special occasions such as Birthday, Anniversary, Christmas, etc.
Surprise him and let him/her know how much he/she is loved with this beautiful gift.
Exclusive lettering, personalized customization
This music box supports  free engraving text, carving special words and giving them to special people.
You can

 carving any words or sentence

 

you want, such as: "Our Grandson Jacob, with all our Love Nan & Grandad Dennis xx"  or someone's name "ELODIE xx"  etc.
Why do you buy this?
Free engraving text 

-- 

 make a unique and meaningful special gift for you.

Thanksgiving gift--give it to your family, teachers, and friends. Carve your grateful words and thank them.
Christmas present--Engraving special words for children, giving children a surprise, but also a blessing.
Birthday gift--a beautiful birthday greeting, engraved on it, with the rotation of the music box and the beautiful music, send the best wishes

Exclusive 

playmate--engraving the child's name or whatever you want, give it to the child, let it be the child's exclusive playmate
It's for any other use you want.      
Make good memories with music
More styles of music boxes in our store
Where does music come from -- Inside music box, there is a movement, when the movement works, it will give out beautiful sound
Customers Display
 To  daughter Catherine
Pops loves you
FRANCISCO PIMENTEL - OCTOBER , 2019
Corresponding Size & Music & Moving Point
Train -- Perfect special gift for you loved little ones who love music and trains.
Music: Spirited Away
Moving Point: train rotation
Size: about height 13cm * width 11cm /

 

5.12 * 4.33 * 4.33in

 Ferris wheel every grid is full of happiness.

There must be a grid in it that belongs to you

Music: Castle In The Sky

Moving Point: Ferris wheel rotation

Size: about height 17.3 * diameter 11cm / 6.81 * 4.33in

The castle at night, as if everything had risen from silence.

Ornate candlestick, flickering candle fire, warm fireplace, silver glittering tableware.

Music: Castle In The Sky

Moving Point: car rotation

Size: about height 14.8 * length 11 * width 11cm / 5.83 * 4.33 * 4.33in




No batteries needed--this box uses mechanical movement

, it can sing music without battery.




Special Feature

High quality 

wood material is used to ensure a lightweight product which can be

 

freely placed

. 

Classic light music

 

can be used as a lullaby to make your children

 

have a sound sleep

. 

Without burr,

 

it is

 

non-toxic

 

and

 

more durable

 

due to its

 

high quality material

. 

No need for battery, it can be used all the time.

Uses handmade technics with high quality, has

 

comfortable touch-feeling

,

 

good-looking appearance

.
Our music boxes are suitable for every occasions, great for children,s graduation gifts, Christmas gift, Birthday gift, engagement and anniversary as well

ROTATE WITH MUSIC

This box uses 

mechanical movement

, No batteries needed, it can sing music without battery.

Music box is lightweight, however, the detailed of each small cabins swinging while the Ferris Wheel moving shows the quality of this classic design yet contemporary with its movement.

Takefuns wooden music box design was coming from the base of physical dynamics and magnets,the wooden music box run in different fun movements including

 

360 degrees rotation

 

along with small magnetic cars and trains.