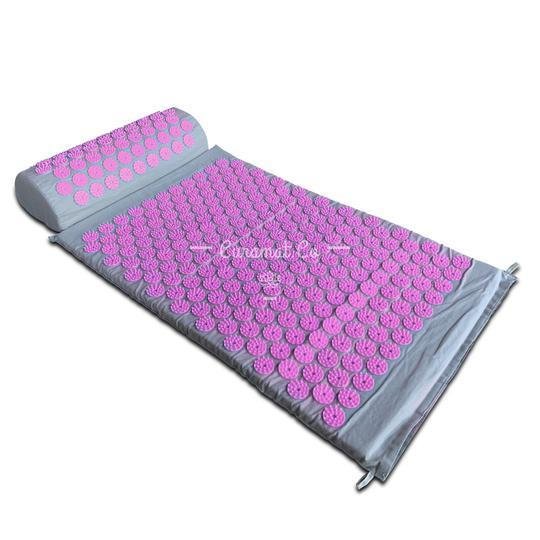 Curamat brings you acupressure massage that is clinically-proven to significantly relieve pain in the body. The Curamat set is made up of the Curamat mat and the Curamat pillow. It stimulates the production of endorphins, which bind to the μ-opioid receptors in the brain and are powerful, natural pain-killers. Endorphins also improve your sleep and make you feel happy.
This holistic approach to health creates a positive feedback loop between physical and mental well-being. Curamat is made from natural linen, so it is kind to your skin. It is a powerful tool to improve your outlook. Just a few minutes each day with Curamat can revolutionize your health and empower you to live your life to its full potential.
How to use?
The zones of the body where the Curamat set has the greatest effect are the back, shoulders, neck, waist, hips, feet and hands. The most common way of using the Curamat is to lie your back (on the mat) to relieve minor muscle aches and pains.
          1. Lay your Curamat on a bed or on the floor.
          2. Remove your shirt or other type of clothing from your upper body (or put on a thin shirt if it feels more comfortable).
          3. Slowly and carefully lie down on your back − do it gradually, supporting yourself with your arms by the sides of the mat.
          4. Draw your knees up in a bend in order to press your lower back to the surface of the mat. You may keep your legs bent at the knees or straighten them.
Specifications
Mat: 25,9 x 16,5 in (66 x 44 cm)
Pillow: 5,9 x 15,7 x 3,9 in ( 15 x 40 x 10 cm)
Cleaning: the mat and pillow are washed by hand